How long will your can of Armstrong Clark stain last?
You might find that when you've finished that big staining project, that you're left with a bunch of Armstrong Clark stain left over. It would be a shame to throw it away, wouldn't it? If you intend to store it, then there are a few things you should know first. Armstrong Clark deck stains are designed to be usable for a long time so long as they are stored correctly.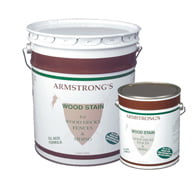 Unopened containers of Armstrong stains – just like regular paint – have a shelf-life of up to 3-4 years as long as they are stored in a temperature controlled room. So if you didn't have enough time to finish your project this year then there's no reason to worry – you can use the stain at a later date.
A more common problem is that you have already opened the can of stain and it is now only half-used. What can you do in this case? Armstrong Clark stains can last up to 12+ months if stored correctly with the lid tightly sealed. If the substance has contact with the air, the solvents will evaporate and you won't be able to use your stain again. When properly stored, you will not need to buy another tin, saving you money in the long-run.
Things to note when storing Armstrong Clare stains
The ideal environment for storing the AC stain is a cool, dry room with a steady temperature. Try not to expose the cans to sunlight
Make sure the lid is 100% sealed. No air gaps
Do not store where it can freeze
Armstrong Clark wood and deck stains can help you save money by providing quality products. The tips in this article are suggestions, if you follow them, you will increase the shelf-life of your oil-based stains greatly.