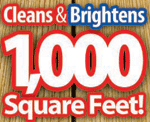 Make Restoring Your Exterior Wood ...Easy!

Restore-A-Deck Cleaner and Brightener system is a powerful "eco-friendly" two-part restoration system.
Step 1 Wood and Deck Cleaner Specifically Designed for Exterior Wood and Composite Decking that deeply cleans your wood to remove to remove dirt, grime, mold, algae and general graying. The cleaner will help prep neglected wood and or prep for re-coating with a wood or deck stain.
Step 2 Wood Brightener is used after the wood cleaner to "brighten" the wood while neutralizing the cleaner to a natural pH balance. This step will improve the overall appearance of your wood while helping the wood deck stain longevity.
Restore-A-Deck wood cleaner is used to prep wood and stains for the reapplication of wood stain. RAD Step 1 Cleaner will not strip or remove old stains. Please refer to Restore-A-Deck Stripper if you are attempting to get rid of a semi-transparent wood stain.
Reviews
Sunday, 25 June 2017
Prep for cleaning new wood or dirty and gray decks.

Use when doing a maintenance coat of Armstrong Clark.
Please log in to write a review. Log in