Best Semi-Solid Deck Stain
Deck stains come in different transparency levels. The more transparent or the less opaque a stain is, the more the natural wood grain shows through. This category is referred to as the semi-transparent deck stains.
The more opaque less transparent deck stains are commonly called the semi-solid deck stains. So basically the transparency scale in order starting with the least opaque would be a clear sealer, semi-transparent stain, semi-solid stain, and solid stains.
All stains are designed to be water repellent but not all will protect against graying UV rays. Pigment in the stain is what provides UV protection. With that said, a clear sealer would provide zero UV protection while a solid stain would provide the most. Ultraviolet rays are what cause a wood deck to turn gray. Because of this, many deck owners stay away from clear sealers.
The solid deck stains completely mask the beauty of the wood and are much harder to maintain. Therefore, the semi-transparent and semi-solid deck stains are the popular choices. They are easier to maintain, provide adequate water and UV protection, and do not hide the wood but rather enhance its appearance. For those looking for an enhanced look with exceptional UV protection, the semi-solid stains are the ticket.
The best semi-solid deck stain is going to be an oil based penetrating formula. A reputable deck stain like Armstrong Clark is a popular choice. They offer several semi-solid deck stain colors such as Espresso, Mountain Cedar, Sequoia, Woodland, and Oxford Brown.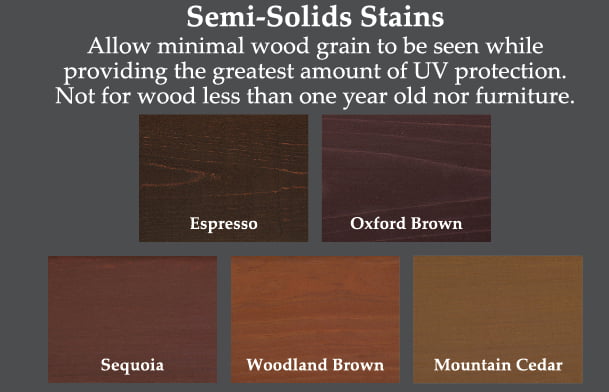 This stain is a unique blend of both nondrying and drying oils. These oils separate to perform specific tasks. The nondrying side of the formula penetrates the pores to replace the wood's lessening natural oils. The drying oils provide a surface barrier to trap in the conditioning oils and keep out moisture. This process revitalizes the wood while providing protection. Using the best semi-solid deck stain available will ensure you get much use from your deck while keeping it looking great.
Questions? Ask Below!