Armstrong Clark 2022 Contest Results can be seen here: 2022 Armstrong Clark Stain Contest
Armstrong Clark 2021 Contest Results can be seen here: 2021 Armstrong Clark Stain Contest
Armstrong Clark 2020 Contest Results can be seen here: 2020 Armstrong Clark Stain Contest
Armstrong Clark 2019 Contest Results can be seen here: 2019 Armstrong Clark Stain Contest
The Armstrong Clark Wood Restoration 2023 Contest is closed!
First Place
Mark Good
First Place = $500
Second Place
Craig Mattson
Second Place = $300
Third Place
Paul Daniusis
Third Place = $200
Thanks to all the entries this year! All entries were excellent and that made it very hard to choose the winners!
We will be contacting the winners via email.
---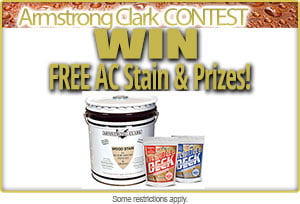 The Armstrong Clark 2023 Contest Details
All Armstrong Clark and Prep products must be purchased first from this online retail site (ArmstrongClarkStain.com) between January 1st – Sept 30th, 2023.
The deadline for entry is Sept. 30th, 2023.
The winner will be decided by October 15th by our team.
Contestant winners will receive
First Place = $500
Second Place = $300
Third Place:= $200
How To Enter the Contest
Enter by Sept. 30th, 2023.
In the comment section below, post a short description of your deck/wood staining project, the products used to prep, and the Armstrong Clark Stain and Color used. Examples of wood projects that can be entered: Decks, Fences, Wood Side Homes, Log Cabins, etc.
Add 2 before prepping pictures of the wood that was restored (no more/less). You can still enter if you do not have the before pictures. Decks, wood fences, wood homes, etc are allowed.
2 after staining pictures must be included (no more/less).
If having trouble uploading the pictures, please make your picture(s) size smaller (below 1 MB).
Any questions or issues posting, please ask in the comment area.
We look forward to all Armstrong Clark Stain entries!
*Disclaimer: All products must be purchased from ArmstrongClarkStain.com. The contest is not open to products purchased from other online dealers or from physical retail stores.