All 5 Gallon Pails Ship Free in 48 States!
Armstrong Clark IPE and Hardwood Stains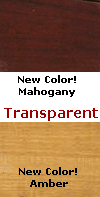 Armstrong-Clark's stain offer the long lasting life on exotic hardwoods. No other stain on the market holds color longer for exotic woods. Deep penetrating formula offers excellent protection with less chance of wearing or peeling.
A high solids pigmented finish made from heavy and light bodied oils specially formulated for application on unpainted hardwoods. Heavy bodied oils provide water repellency. Extra pigments provide enhanced color retention on hardwoods. Light bodied oils combined with solvent penetrate into the wood. Armstrong's Semi-Transparent Hardwood Finishes repel water, retain color longer and reduce the frequency of re-coats on maintenance intensive hardwoods.
Available in 2 colors: Armstrong Clark Mahogany and Amber
Tested by professionals, Armstrong Clark outperforms all other brands on exotic wood such as:
IPE
Mahogany
Cumaru
Tigerwood
All Brazilian Exotic Woods